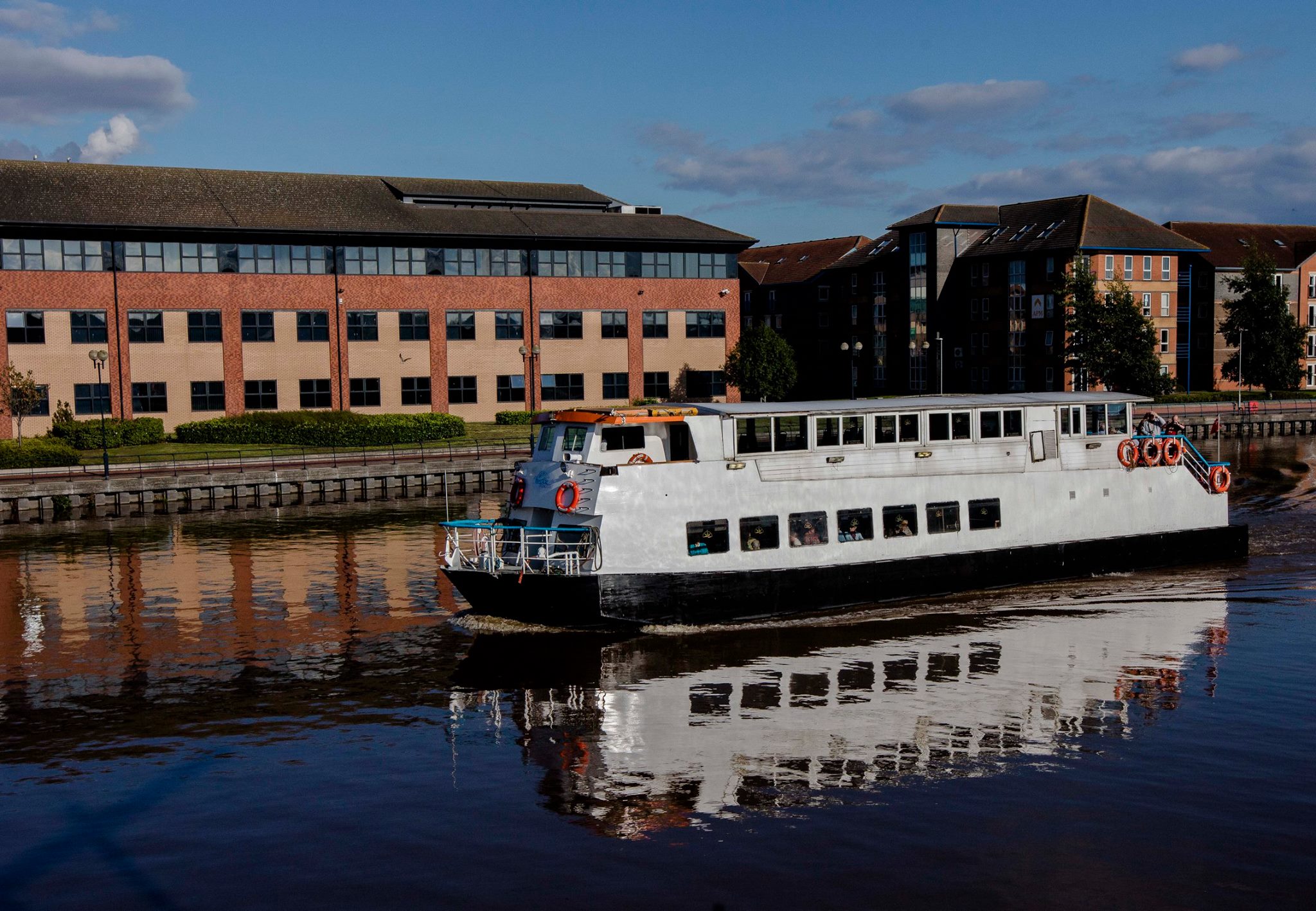 About Us
Meet The Team
The Teesside Princess is host to a team of experienced staff who'll help to make your
journey you bit extra special. Our team is always on hand to assist.
Tailored River Cruises
We offer both tailored and themed river cruises and we aim to make your cruise, one to remember. Our cruises sail up and down the River Tees, allowing you to take in all of the breathtaking views on offer.
From our themed river cruises to booking a special event, there's nothing we can't host. We also have a selection of food and drink available to choose from. Be sure to book a river cruise on The Teesside Princess today.
Established Company
We have been providing our river cruises for many years. Over this time we have developed a well-known reputation and have become one of the leading choices for river cruises in the area.
No matter what the event or reason might be, our cruises will guarantee you lifetime memories. The boat is tastefully decorated and offers a tasteful classic look.
For more information on our river cruises, please don't hesitate to contact us. One of our team is always on hand to answer questions and deal with enquiries. 
Well-known reputation
We are well-known throughout Stockton-on-Tees and the surrounding areas for the cruises and services we provide to our customers.
Cruises for all events
Our cruises are perfect for all events and occasions. From themed cruises to special events and much more, we have cruises to suit everyone. 
First class service
We pride ourselves on delivering a first class service and all of our team are fully trained and have years of hospitality experience between them. 
Meet the Team
Rachel Hutchinson
Business Support Manager and First Mate
Rachel has also been with the Princess since 1999 and is also passionate believer in the importance of the Teesside Princess to our area. Rachel is responsible for all the peripheral requirements of the Princess. She is the one replying to your enquiries, whilst managing the "behind the scenes" such as the bookings database, ordering catering, organising the cruises and ensuring our compliance requirements are met.
Away from the Princess Rachel loves her dogs; Bella & Tilly and she walks them every day.
Heather Hutchinson
Housekeeping supervisor
Heather is the person who ensures we enjoy our sail in perfect environment; a clean vessel and impeccable table cloths and napkins folded to precision.
Heather, like her daughter Rachel, has been here since the late 90's. When she's not at work, Heather likes to look after her grandchildren Elsie and Freddie.
Ian Edge
Owner & Managing Director
Ian is the one person who made this company possible. Ian first met Chris at one of Chris's Quizzes, becoming good friends through teasing him about being a Leeds Fan, #UTB. When he heard that the Princess was up for auction, he had no doubt in his mind it would be staying in Teesside.
With Ian's vision and handiwork, the vessel went under a major refurbishment and radically changed the visual and mental perception of Teesside Princess.
When he is not at the Princess, Ian enjoys cycling, skiing, scuba diving as well as his family and animals.
Chris Hughes-Rutherford
Operations Director, DJ & First Mate
Chris has sailed with the boat man and boy. He joined the crew in 1997 as a guest DJ playing the hip tunes of the time and still does (the same tunes). Chris became a regular crew member and 1st mate very shortly afterwards and has exuded passion about the boat and where we sail.
Chris, for all his positive impact on the boat, has the unfortunate affliction of being a Leeds United Fan and is often heard on BBC Tees' Bob Fischer 'Time of our Lives' recounting tales of how we are getting on with the refurbishment of the Princess – describing himself as the 'sad Leeds Fan' – I was under the impression that all Leeds fans were sad in one way or another 😊. 
Sophie Edge
Events & Marketing Manager
Sophie has a degree in Tourism and Marketing and she is responsible for the public face of the Princess. She manages the social media accounts, achieving over 4,400 likes on Facebook in our 1st year, in conjunction with the website and other marketing activities. She also plans and co-ordinates our event nights, whether it is an 80s night, a murder mystery night or a gin tasting evening.
In her spare time Sophie enjoys travelling, walking her dogs, and Netflix!